Available for the first time in America! Prise d'Erivan Pas Redoublé by Rossini is offered in two editions burned on the same CD-ROM. Prise d'Erivan can be played with the original instrumentation or the full symphonic band edition created by Rickey Badua.
Original Instrumentation:
Piccolo, E-flat Clarinet, 2 B-flat Clarinets, 2 Bassoons, B-flat Trumpet, 2 B-flat Cornets,
4 Horns in F, 3 Trombones, Tuba,
Tenor Drum, Bass Drum.
The Maestro & Fox business model allows us to 1) pay 25% royalties to our talented composers and arrangers, and 2) offer the finest wind band editions at reasonable prices.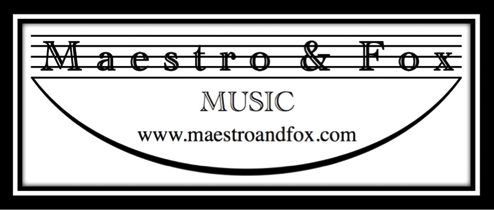 FIRST IN PDF BAND MUSIC
CLICK PRINT PLAY
Maestro & Fox Music
P. O. Box 5732
Shreveport, LA 71105

International
Postage
required for
overseas
purchases
$20.00 USD
(318) 218-6678
www.maestroandfox.com
orders@maestroandfox.com
maestroandfox@aol.com
@maestroandfox
MAESTRO & FOX MUSIC IS PROUD TO ANNOUNCE THE RELEASE OF CLIFTON WILLIAMS EDITIONS FOR SYMPHONY ORCHESTRA!
SINFONIA CONCERTANTE for Strings and Harp
A SOUTHWESTERN OVERTURE
LEGEND
TRILOGY for SOPRANO and ORCHESTRA
SYMPHONIC DANCE No. 3 "Fiesta"
From arranger Dan Rager a new grade 3 edition of Edward Elgar's "As Torrents in Summer" from the King Olaf Cantata.
JOSEPH WILLCOX JENKINS
SYMPHONY No 5
for band